Stand With Ukraine; Civic Tech Movement -- 🦛 💌 Hippogram #4
This newsletter is dedicated to our fellow people in Ukraine. There is no point in remaining observers. It is time to stand up and be counted. Bart de Witte focuses on the #civictech community and points out how we are all digitally connected and collectively driven by shared purpose and altruism.
Welcome to our newsletter for health and tech professionals - the Hippogram.
I'm Bart de Witte, and I've been part of the health technology community and industry for more than 20 years as a social entrepreneur. In that time, the evolution of technologies changed the face of healthcare, business models and culture in many inspiring but also unexpected ways.‌‌
This newsletter wants to share knowledge and insights. This is the heart of the Hippo AI Foundation, named after Hippocrates. Know-How will increasingly result from the data we produce, so it's crucial to share it in our digital health systems. We believe that building more equitable and sustainable global digital health will benefit everyone.
A very warm hello and good to see you to the 105 new Hippogram readers who have joined us since last Wednesday. Not a member yet? Sign up here for the whole Hippo experience:
Algorithms Accentuate Our Caveman Instincts
We all know some dark times have dawned in Europe. People who do not know each other are killing each other for no good reason. We are all globally connected today. And as a person who spent six years working in Central and Eastern Europe, I feel the deepest sympathy for all those directly affected. I have unlinked the algorithms that activate our palaeolithic emotions and polarize us even more without accomplishing anything meaningful. This only activates more anger, fear, resentment and other atavistic emotions.
The only important emotion I will focus on is empathy. It's the strongest power we have. As I wrote in my last Hippogram, the COVID crisis connected people worldwide to a common purpose, to help, and that is happening again. Last Saturday, my #civiltech friend Paula Schwarz started a group chat called #Tech4Ukraine. Within a few hours, over 200 well-connected people were sharing information, raising funds, and helping. The civic tech movement that was created during the first refugee crisis (e.g. Techfugees from Mike Butcher) and grew during the COVID pandemic re-activated their networks, such as tech to the Rescue. The globally networked digital society of generation has reacted at speed and in impressive proportions forming a grassroots giant. Facilitating this civic power has enormous potential for the common good.
Let's Build A More Digital & More Empathic Future
Here are just a few examples of what an open and digital government that co-creates and sets on civic participation and modern society can do. It's an enormous inspiration for building a different, more digital and more empathic future.
A report by the Knight Foundation on Civic Tech in 2013 classifies the various Civic Tech projects into two categories: Opening government and Citizens' participation, which concerns the development of citizens' networks, the engagement of local communities, crowdfunding and sharing citizens' data.
In a tweet on Thursday, the official Twitter account of Ukraine started a crowdfunding campaign. The money will fund the "logistical and medical support" of the Ukrainian armed forces. This initiative has raised $22 million through thousands of crypto-asset donations. According to the blockchain analytics firm Elliptic, one NGO received a single Bitcoin donation worth $3 million. I spoke to Audrey Tang, the digital Minister of Taiwan. With the help of the tech community and civil society, she has made Taiwan a world leader in innovative citizen participation. (Link to the talk with her on "open-source AI and data"). So it wasn't a surprise to hear that the Taiwanese #civictech movement has aggregated resources and contributes to the g0v.tw community hub platform.
Will the global #civictech community accomplish even more this time? Will this movement become a major driver towards peacebuilding between the Russians and Ukraine? The hacking group Anonymous claimed to do so and could hack into Russian TV to show footage of what is happening in Ukraine.
Even Jack Sweeney, the young Student at UCF, who recently declined an offer from Elon Musk as he created a bot that tracks Elon's private jet, has joined the #civic movement. He created bots that track Russian Oligarchs Jets.
Some brought in even ideas on how to use NFTss to give Russian soldiers the incentive to stop fighting, which means that we are only touching the surface of what is possible.
Then, on Saturday, when Ukraine's Deputy Prime Minister and Minister of Digital Transformation Mykhailo Fedorov tweeted at Elon to provide the Starlink service, Elon responded in less than 11 hours that it was life: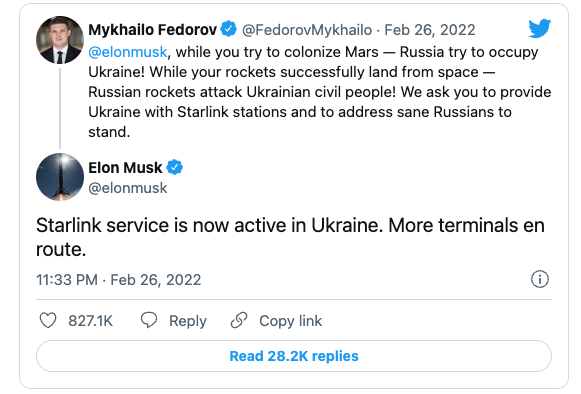 It is truly inspiring that a private citizen can pool government-sized resources and tweet about it in real-time.
This war will be a wake-up call on how we can use #techforgood, and it is the evolutionary result of our digital socialization. This link connects us globally and allows us to self-organize in a decentralized but impactful fashion. While most of my friends and family on social media are driven by the algorithms that lead to anger, others are digitally connected and driven by shared purpose and altruism. That's the silver lining in the dark clouds that cover Europe, and it reminds me of a quote a Chinese doctor once told me: We humans are more closely connected to each other than each of us is to our own government.
As Yuval Harari said in a recent essay, "The Ukrainian people are resisting with all their heart, winning the admiration of the entire world – and winning the war. Many dark days lie ahead. The Russians may still conquer the whole of Ukraine. But to win the war, the Russians would have to hold Ukraine, and they could do that only if the Ukrainian people let them. This seems increasingly unlikely to happen."
This newsletter wasn't about health, but we are probably engaged in an important part of history. If tyranny and aggression gain the upper hand, we will all suffer the consequences. There is no point in remaining mere observers. In contrast to the cold war, we see in Ukraine how a digitally connected world stands up and how new organizational models that leverage these technologies can derail the second most powerful army in the world. This is something piling up nuclear arms never achieved. Now imagine how patients will benefit in the future if the wealth of knowledge being generated and stored today will be made accessible (open) to people who will make a difference. Since last week, we know they exist in every corner of the world!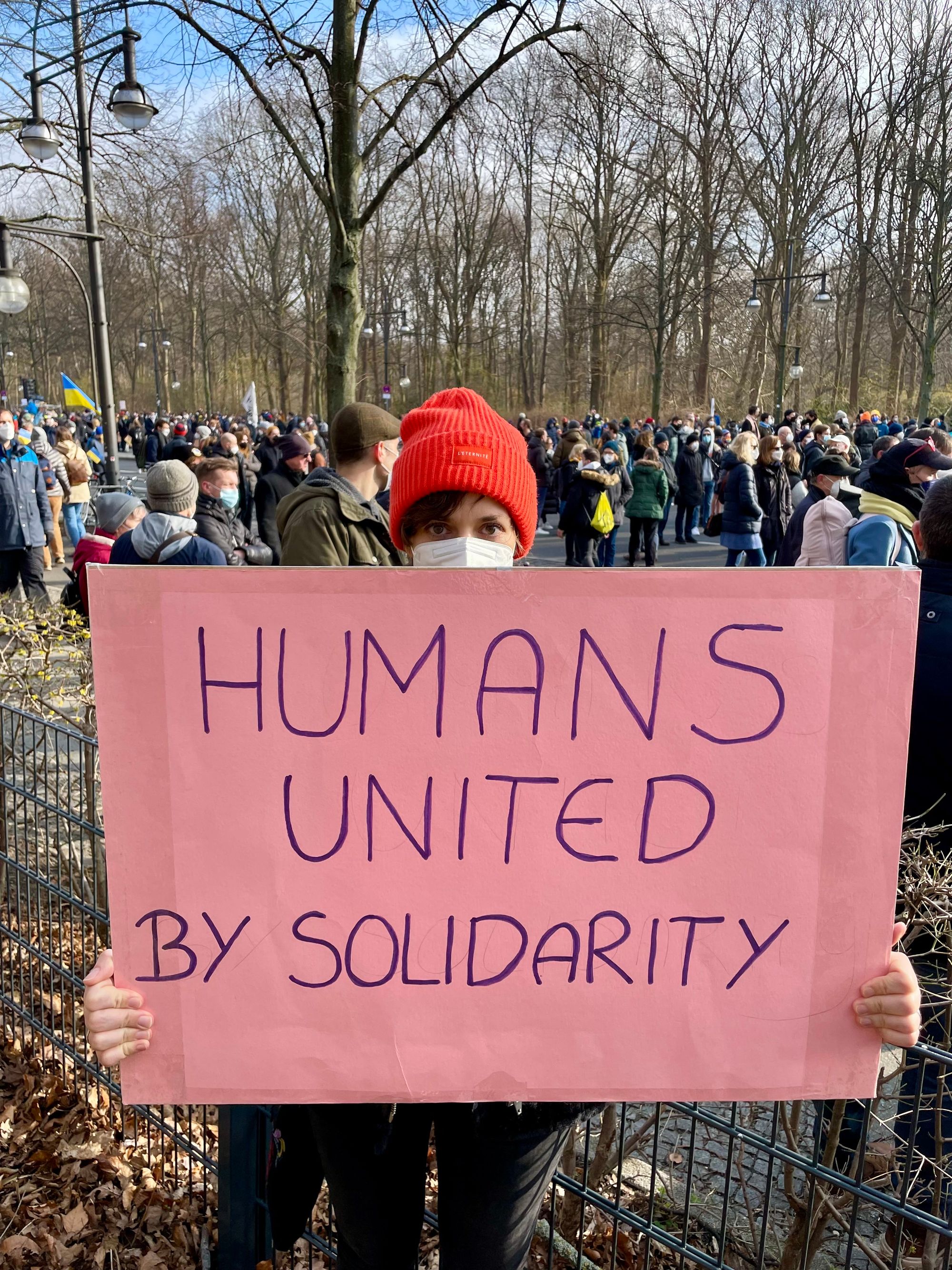 ---
#OpenThinker Of The Week
President Selenskyj impressed us on many different levels within the last few days and rose to a global icon of resistance. He is close to his people, thoughtful and determined. But he also presented himself to us as a clear role model for an #OpenThinker committed to civic participation.
To rapidly strengthen its defences against the Russian military, the Ukraine government and the National Bank of Ukraine are crowdfunding for its military. But that's not all - to strengthen Ukraine's forces, he asked foreigners to sign up at Ukrainian embassies worldwide for an "international brigade" of volunteers to help fight the invading Russian troops. In addition, the Ukrainian government is reaching out to the hacker community to share their knowledge and skills.
From his example, we can learn how to build a strong trust between the government and the population. He strengthens the bond by focusing on flat hierarchies and narrowing the space between policymaking and citizen participation. A transparent digital administration and understanding politics as a changing and learning system make it adaptable, agile, and open to co-creation. Because of his leadership, it is possible to find new solutions through "joint action."
---
Technology Inspired Art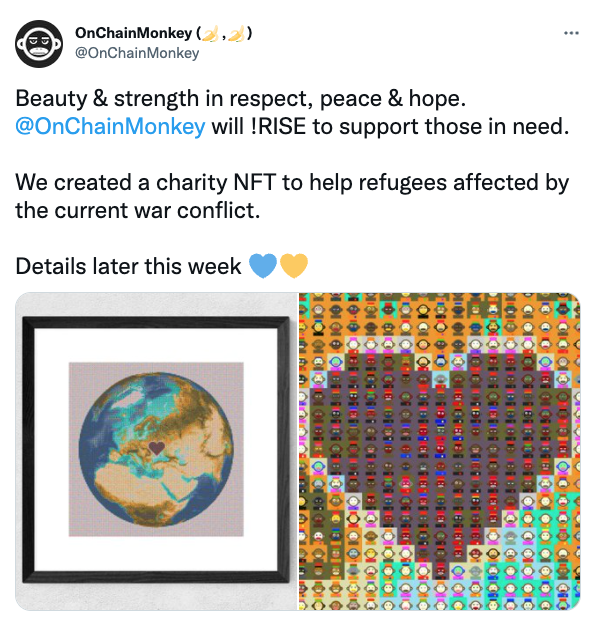 OnChainMonkey created a charity NFT to help refugees affected by the current war conflict. Another way to use technology and art to support our fellow human beings in their darkest hours.
How You Can Help 🤝🇺🇦
---
Thank you for reading the Hippogram. I'll be back in two weeks; until then, stay well and best wishes.
Bart.
Share Your Feedback
Was it useful? Help us to improve!
With your feedback, we can improve the letter. Click on a link to vote:
About Bart de Witte
Bart de Witte is a leading and distinguished expert for digital transformation in healthcare in Europe but also one of the most progressive thought leaders in his field. He focuses on developing alternative strategies for creating a more desirable future for the post-modern world and all of us. With his Co-Founder, Viktoria Prantauer, he founded the non-profit organisation Hippo AI Foundation, located in Berlin.
About Hippo AI Foundation
The Hippo AI Foundation is a non-profit that accelerates the development of open-sourced medical AI by creating data and AI commons (e.q. data and AI as digital common goods/ open-source). As an altruistic "data trustee", Hippo unites, cleanses, and de-identifies data from individual and institutional data donations. This means data that is made available without reward for open-source usage that benefits communities or society at large, such as the use of breast-cancer data to improve global access to breast cancer diagnostics.