Breaking the Wall of Health Inequality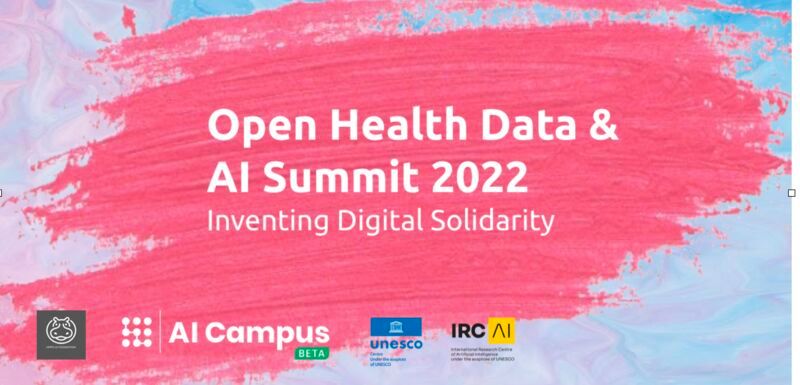 Hippo AI Open Health Data and AI Summit

Today marks the beginning of an expanded awareness campaign. As we are now constructing the healthcare systems in which our children will live, we believe it is of utmost importance that they serve everyone equitably and are based on European values such as solidarity.
Our summit is the beginning of a conversation. An investigation of how to reinvent solidarity in the digital economy. Tech-feudalism is not just a word in the news today; it is the product of a system in which we equate data to capital and construct legal walls around data and artificial intelligence.
Today, we will host several selected well-curated guests in our Studio at Berlin's Brandenburg Gate. We could not have chosen a more significant location. The Brandenburger Tor and the fallen wall represent liberty, peace, and cohesion. The barrier that divided humanity. A significant gap in mortality rates resulted from the fact that Germans lived under fundamentally different political, social, and economic systems for four decades. In 1989, the life expectancy of East German men was 2.4 years less than that of West Berlin men, and the life expectancy of East German women was 2.6 years less. Since the unification of Germany thirty years ago, death rates among East Germans have decreased dramatically. The adoption of the social, economic, and political system of West Germany resulted in improved living conditions and the adoption of Western medical technology in East Germany. The Wall is simultaneously a symbol of freedom and a warning. If people ask me why we want an open digital future, I typically answer, I live in Berlin; in Berlin, we don't like walls.
Please feel free to register for free at summit.hippoai.com.
If you wish to participate in the online discussion, you are more than welcome to join our newly established Discord Server, where we will continue the discussion: https://discord.gg/
Agenda:

DAY ONE – DATA DAY
12:00 – 12:10 Welcome & Housekeeping
Host: Tobias Schmid
12:10 – 12:45 Opening Keynote – The Socio-Technological Future of Medical AI
Bart de Witte – Founder Hippo AI Foundation
12:50 – 13:30 Keynote – Vaccines as Global Commons
Prof. Shalini Randeria
President & Rector – Central European University, Vienna, AustriaInterview Prof. Shalini Randeria / Bart de Witte / Tobias Schmid
13:30 – 13:45 Break
13:45 – 14:45 Keynote & Interview – The Data Act and the European Health Data Space
Paul Keller
Co-Founder and Policy Director at Open Future Foundation, Amsterdam, Netherlands
Paul Keller & Bart de Witte Interview – IP on Data in context of the European Health Data Space
14:45 – 15:00 Break
15:00 – 16:00 Debate: Does the rise of AI need us to adopt new data licensing policies?
Host & Moderator: Shreekanth Mukku
Panelists:

Danish Contractor (IBM Research – co-founder Responsible AI License RAIL)
Hanlin Li (Asisstant Prof. UT Austin)
Luis Villa (Co-Founder Tidelift)
Nick Vincent (Postdoc Researcher at UC Davis)
Stefano Maffulli (Executive Director Open Source Initiative)
16:00 – 16:15 Break
16:15 – 17:15 Digital Sovereignity in Healthcare, why does it matter?
Jan J. Zygmuntowski
President Polska Sieć Ekonomii
Lecturer in Management and Artificial Intelligence, Kozminski University, Poland
Jan J. Zygmuntowski & Bart de Witte Interview – Who defines the rules for access?
17:15 – 18:00 Recommendations for the European Health Data Space
Tobias Schmid & Bart de Witte in Interview
DAY TWO – AI DAY
12:00 – 12:10 Welcome & Recap
Host: Tobias Schmid
12:10 – 12:30 Opening Keynote
Peter Kapitein, Patient Advocate, Inspire2Live
12:30 – 13:15 Keynote
Prof. Sharon Tamar
Professor – Philosophical ethics and political philosophy
Professor – Interdisciplinary Hub for Digitalization and Society
Chair: Philosophy, Digitalization and Society, Rabid University
Interview Prof. Sharon Tamar / Bart de Witte / Tobias Schmid
13:15- 13:30 Break
13:30 – 14:30 Keynote & Interview – The AI Act
Carlos Munos Ferandis
AI Council at Hugging Face, New York, USA
One AI Member OECD, BigScience, BigCode Member

Carlos Munos Ferandis & Bart de Witte Interview
14:30 – 14:45 Break
14:45 – 15:45 Debate: Avoiding the Digital Nemesis
Host: Dr. Egge van de Poel Co-Founder De Datenverbinders, Netherlands
Panelist:
Sietske Rozie,Radiologst, Netherlands
Jacqueline van Ginkel – Innovator – Zorg voor de toekomst nu, Netherlands
Erwin Redeman – Founder Neurocast, Netherlands
Marcel Kerkhoven – General Practitioner, Netherlands
15:45 – 16:00 Break
16:00 – 16:45 Open Data and the European Data Space from practical perspective
Miguel Á. Armengol de la Hoz
Head of the Big Data Department, Ministry of Health, Andalusia, Espana
Miguel Á. Armengol de la Hoz & Bart de Witte Interview – How to map the Data and the AI Act?
16:45 – 17:00 Break
17:00 – 17:45 Lecture & Interview Open Learning Ecosystem g
Mike Bernd
Program Manager at the "Stifterverband für die deutsche Wissenschaft" – AI Campus – Open Learning Ecosystem
17:45 – 18:00 Recommendations & Wrap-Up
Tobias Schmid & Bart de Witte
I hope to see you there if you can't make it today. We will stream all sessions and make them available under CC-BY license on different social media platforms.

Pls, register to keep yourself informed -> summit.hippoai.org